Ceratosaurus
fact sheet
, to begin with, as always. Additionally, there are some good coloring opportunities waiting this week both
online
and
offline
. There are also family game time opportunities here with
card games
and
video games
. That's a difficult game to get your hands on these days though. If you've got a really dino-hungry person in your life, Ceratosaurus has been "lucky enough" to be considered acceptable for toy manufacturing by the demanding public. The dinosaur Toy Collector's guide features the model below on its website.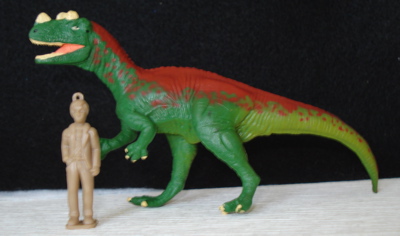 http://www.dinosaur-toys-collectors-guide.com/theropod-dinosaur.html
The "dinotoyblog" features this Ceratosaur and the entry is authored by the Dr. Smith who volunteered his Camarasaurus for last week's edited pencil drawing. He contributes there frequently as he created the blog.
http://www.dinotoyblog.com/2010/10/23/ceratosaurus-dinotales-series-4-by-kaiyodo/