Lambeosaurus has been a fairly popular dinosaur since it was discovered, unearthed, and named properly. Part of the reason for dinosaur fame is always the ostentatious and outlandish look of dinosaurs. Lambeosaurus' crest designs have helped the animal along very well in that regard over time. There may be nothing too unique or outstanding in what amounts to basically a giant Cretaceous cow, but adding that interestingly shaped hood ornament sure does make for a stellar looking celebrity. We have seen Lambeosaurus in many places over the past week, but one place we haven't looked so far is one of our old mainstays of gauging popularity of animals: video games.
Lambeosaurus does not really show up in any currently popular games, strangely enough. No one has made a good rendition in Spore at all, which is interesting since even much newer dinosaurs have shown up in Spore. However, that's just looking for videos. Some folks have made some models in Spore and posted photos, though that's not nearly as entertaining, but here are a few anyhow on the pages of authors
IanScott
and
peelstickputt
. They have been done good jobs, but I have to give the win to this one from IanScott's page: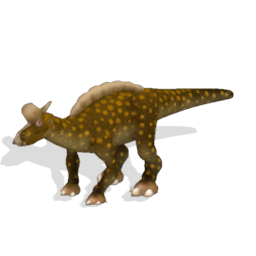 Also, lest we forget, my favorite dinosaur raising game of old: Zoo Tycoon. There's no way to really forget the Lambeosaurus from that game, it had wonderful coloring:
Last but not least on this frontier, someone made dinosaurs for Civilization games, and you'll find a
Lambeosaurus unit here
.